Residential Care
About the Facility
Fitzgerald Aged Care is a Commonwealth funded Aged Care Facility. It is a long established and well respected facility, having its origins in 1818. It offers a secure environment for residents and maintains a high reputation and integrity for the aged care services it provides.
Fitzgerald Aged Care provides quality residential aged care and is licensed to care for 48 residents. This is made up of 46 units for Permanent Care and 2 units for Respite Care. Our staff are highly trained and provide exceptional 24 hour nursing and personal care for each and every resident. We are also closely located to various health facilities including Hawkesbury Hospital. While we have resident doctors, residents are welcome to continue with their own choice of doctors, some of whom visit the facility as required.
Other than individual rooms, which all include their own en-suites and built in wardrobe, we offer communal gathering areas such as a Recreation Room, Courtyards, Lounge and Dining Rooms, where residents are welcome to watch television, play games, socialise and eat their meals. We have a wide choice of meals on offer from the modern and fully equipped kitchen which operates on a fresh cooked system with in-house cooks catering to the resident's dietary needs and offering a large variety of choices.
Leisure and Lifestyle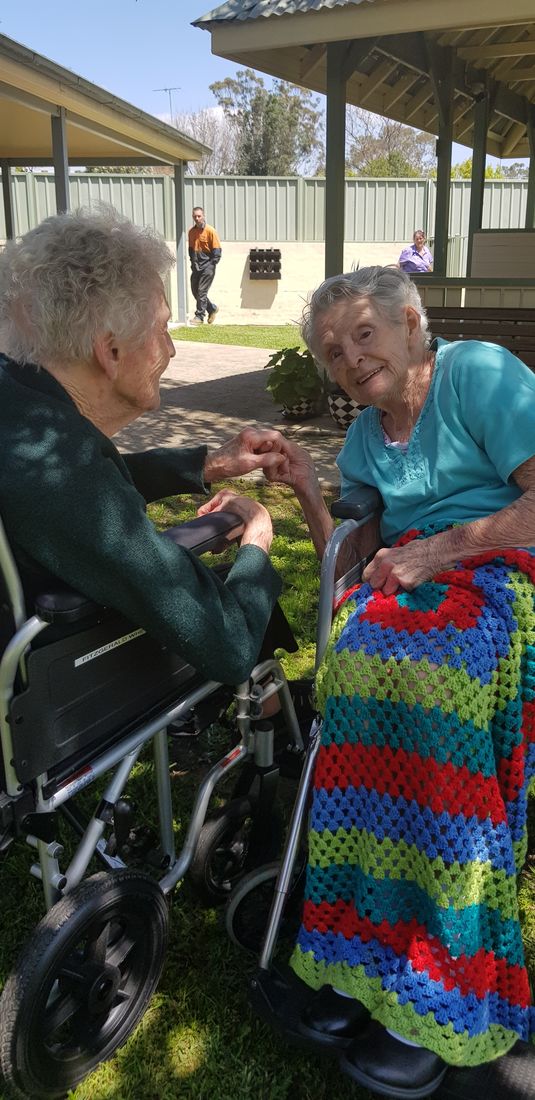 We aim to provide a high quality of living at Fitzgerald, incorporating easy access for residents to local shopping centres such as Windsor Riverview. In house services include physiotherapy, hairdressers, weekly entertainment, therapies, lifestyle activities, readings, craft, movie nights, celebration of special days, exercise programs, church services and volunteer work. There are also a number of Churches close by for those who wish to continue with their attendance. We also have access to a bus where we can take residents out locally or to pre-planned venues or events.
Visitors and families are always welcome to visit and/or join in activities.
Respite Care:
We provide the ability for carers in our community to obtain respite. This allows the carer to have a break with the sound knowledge that their loved one is in the best care. We have 2 units available for this short term accommodation with a minimum booking of two weeks stay.
What do you need? -
An Aged Care Assessment Team assessment which is
fully approved
for Respite care.
If you have any queries, or would like to arrange respite care, please contact us on (02) 4577 2800.



Permanent Care:


What do you need?
An Aged Care Assessment Team assessment which is
fully approved
for Permanent care.
Further information on this can be obtained from the Australian Government Department of Human Services website at
http://www.myagedcare.gov.au
Living at Fitzgerald
If you are contemplating residential care at Fitzgerald, you are more than welcome to come and visit us to familiarise yourself with the surroundings and help you make a more informed decision. Contact our staff to arrange a site tour.
Once you make a decision, you will be asked to complete an application form and you will be placed on a waiting list until a unit becomes available.
Fees and Charges:
Our staff will provide you with an overview of fees and charges, however we recommend that you discuss it with your loved ones and seek independent financial advice to discuss your particular situation.

While the Australian Government provides substantial funding to residential aged care homes to assist with the costs associated with providing care, most residents will also pay a number of fees and charges to their residential aged care home.

The types of fees and charges payable are prescribed by the Government consist of Daily Care Fees and Accommodation Charges in the form of either a lump sum or daily interest payments. The actual cost to residents will vary according to individual circumstances as it depends on your income and assets. To help work this out, please contact the facility and speak to our staff. An appointment can be made to speak to the Business Manager of the facility if you would like to discuss this in more detail.